Family Life
Inside Out 27: VeggieTales Creator - The Death of My Big Idea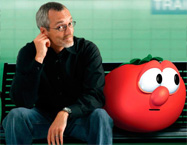 Is it possible to make your service for God… your God?
Not intentionally mind you.
It's just a subtle drift in perspective that replaces the being with the doing over time.
Kind of reminds you of what happened when Jesus visited the home of Mary and Martha:
Luke 10:38-42 (ESV)
"Now as they went on their way, Jesus entered a village. And a woman named Martha welcomed him into her house.
And she had a sister called Mary, who sat at the Lord's feet and listened to his teaching.
But Martha was distracted with much serving. And she went up to him and said, "Lord, do you not care that my sister has left me to serve alone? Tell her then to help me."
But the Lord answered her, "Martha, Martha, you are anxious and troubled about many things, but one thing is necessary. Mary has chosen the good portion, which will not be taken away from her."
What we view and experience as success can actually be a hindrance to the life of God in us.
And what He wants to do through us.
Not always.
But sometimes.
I think passing the test of poverty is, in many ways, easier than passing the test of prosperity.
Deuteronomy 8:11-14 (AMP)
"Beware that you do not forget the Lord your God by not keeping His commandments, His precepts, and His statutes which I command you today,
Lest when you have eaten and are full, and have built goodly houses and live in them,
And when your herds and flocks multiply and your silver and gold is multiplied and all you have is multiplied, Then your [minds and] hearts be lifted up and you forget the Lord your God..."
If you love the VeggieTales characters as much as my family and I do... Then you'll love this conversation I had with Phil Vischer.
This is a candid behind the scenes story of God replacing the good with the best.
In fact, to check out Phil's latest video series, What's in the Bible? Click: whatsinthebible.com
I love it! The episodes use memorable puppet characters to take kids deeply into the Bible in a super fun way.
Read More