Family Life
Inside Out 37: Outlive Your Life!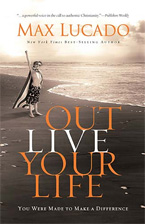 What am I doing today that will outlive my life?
Impact is a funny thing for the follower of Jesus.
It is most often wrapped in the ordinary and defined by obscurity.
The chance of a lifetime in my hands today.
Feels light as a feather.
But it's not.
God does the heavy lifting and invites me to do what I can.
I'm not saved by what I do; my salvation is in Christ alone by faith.
But if my faith is genuine it'll show up in some way... in some measure.
I'll care deeply about what God cares about.
Helping the poor.
Proverbs 19:17 (NIV)
"He who is kind to the poor lends to the LORD, and he will reward him for what he has done."
Caring for widows and orphans.
James 1:27 (ESV)
" Religion that is pure and undefiled before God, the Father, is this: to visit orphans and widows in their affliction…."
Encouraging the brokenhearted.
Psalms 34:18 (ESV)
" The Lord is near to the brokenhearted and saves the crushed in spirit."
We have the hope of God to share in the power of God.
Do you see the weight of that?
1.75 billion people on the planet are desperately poor.
Natural disasters cripple entire nations.
Economic uncertainty is everywhere.
We've got the good news of Jesus.
Can we wrap this eternal hope in a temporal blessing?
Where we are.
With what we have.
Because little is much when God is in it.
Recently I spent some time talking about this with perhaps the most well known Christian author/pastor of our day, Max Lucado.
It takes faith to outlive your life.
Are you up for the challenge?
Read More