Family Life
Inside Out: Connecting Mothers & Daughters
Jul 5, 2017
Martha Manikas-Foster
Moms of young daughters: you know you have a lot to teach your girls—there's so much you want to share. That's true, even if your relationship right now seems rocky.
"I think we're often so busy administrating life, and getting people where they need to go, managing all the details, that we often miss the most important things, and one of them has to be just those meaningful conversations and discipleship of our daughters who are growing up so fast," says Trish Donohue. Donohue is a mom to two daughters and the author of the book Between Us Girls: Walks and Talks for Moms and Daughters. She describes the book as a cheat sheet for getting into the conversations moms want to have with their elementary and middle school daughters.
"Sometimes we just need to stop and say, 'We're going to press into that now, we're going to take initiative and set aside time to do that, so we don't look back and say, "You know, we did a thousand errands and went to a thousand practices, but really didn't do the things we wanted to do."'"
Donohue's hope is that when moms and daughters spend time talking about the impact Jesus has on all of life, they'll grow closer to each other and closer to God who made them. That kind of conversation comes more easily in some families than it does in other families.
"There are many mothers and daughters who do struggle," confirms Donohue. "And I think one important thing to remember is that nobody's relationship is as perfect as we think it is. Whatever photo we might see on social media, most moms and daughters have their struggles."
But when mothers in challenging relationships with their daughters move forward--despite lukewarm or cool receptions from their daughters—their obedience to love through difficulties demonstrates precisely what they want their daughters to learn.
"I think as moms we have the opportunity to be a picture of God's steadfast love to our daughters," she says. "And our initiative and efforts toward them echo God's initiative towards us."
Click on the LISTEN or DOWNLOAD icon above to learn about Donohue's book and to hear her counsel for moms who feel discouraged about their relationship with their young daughters. The recording of this Inside Out news feature lasts just over five minutes.
You can also read about her book Between Us Girls: Walks and Talks for Moms and Daughters.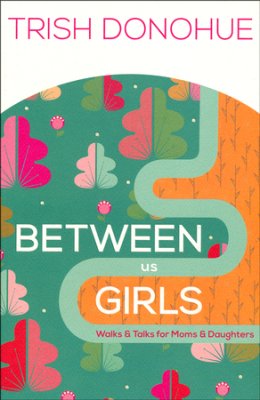 You can also read about her book Between Us Girls: Walks and Talks for Moms and Daughters by clicking here
Read More